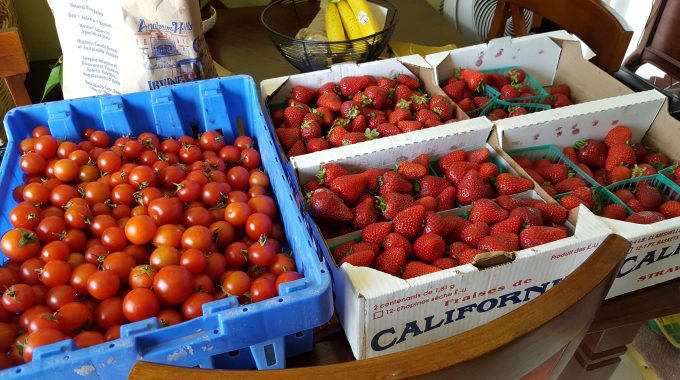 Where to Find Organic Fresh Produce in Orange County
While it is possible to buy fresh produce such as fruits and vegetables in the supermarkets, nothing beats buying organically and locally grown produce directly from the farmers. They are fresher and normally cheaper than those you can buy in many supermarkets.
If you are living in Orange County, here are some of the best places you could visit to buy organic fresh produce:
Tanaka Farms
Tanaka Farms grows fruits and vegetables using organic farming methods. They harvest their produce daily to ensure fresh displays in their stands. The produce they sell varies depending on the growing season. Generally, they sell strawberries from March to June, watermelons, and cantaloupes from July to August. Aside from these main products, they have many other fruits and vegetables on display. They are also popular for their chocolate-dipped strawberries which you could order in advance. Aside from selling fresh produce, Tanaka Farms also offer seasonal self-guided tour in their farm where visitors could pick pumpkins, strawberries and other seasonal harvests.
Location:
5380 3/4 University Drive, Irvine, California
Business Hours:
Monday to Sunday – 9 AM to 5 PM except during winter break right after Christmas season
 South Coast Farms
For more than ten years now, South Coast Farms has been producing certified organic vegetables and fruits in their 32-acre farm. Apart from fresh produce, they also sell limited breads and condiments from other local suppliers.
Location:
32701 Alipaz Street, San Juan Capistrano
Business Hours:
Monday to Saturday – 9 AM to 5 PM
Sundays – 9 AM to 4 PM
Irvine Farmers Market
If you plan to visit Irvine Farmers Market, come early to find a good parking space. More often, their parking becomes full as early as 11 in the morning. It is one of the best places in Irvine to buy locally grown fruits and vegetables as well as other products such as plants, crafts and gourmet foods.
Locations:
Saturdays – corner of Campus Drive and Bridge at University Town Center (Just across the University of California–Irvine), Irvine, California
Tuesdays – Historic Park at Irvine Ranch
13042 Old Myford Road, Irvine, California
Business Hours:
Saturdays – 8 AM to noon time
Tuesdays – 9 AM to 1 PM
Great Park Farmers Market
If you feel like shopping and strolling on a lazy Sunday, Great Park Farmers Market is a good place to be. It is a place where you could shop for fresh produce, grab your lunch from any of the food trucks, and listen to the live band playing. There are many things that you could buy from this farmers market including organic poultry products as well as fruits and vegetables, baked goods, handmade soups, plants, honey, fine jewelries, gourmet foods and others from local artisans. And if you have a dog, you may bring it here.
Location:
Marine Way at Great Park, Irvine, California (Just next to the Farm & Food Lab)
Business Hours:
Sundays – 10 AM to 2 PM
Tustin Certified Farmers Market
If you are in Tustin or its surrounding areas and you are looking for a good source of organic fresh produce, baked goods, handmade products or plants, you could visit Tustin Certified Farmers Market. You can also find here some local honey as well as fresh fishes. They also have trucks where you could easily grab your meal after shopping. When shopping here, it is best to wear close-toed shoes especially during rainy days as it is located on the dirt.
Location:
3rd & El Camino, Old Town Tustin, Tustin, CA
Business Hours:
Wednesdays – 9 AM to 1 PM (rain or shine)
Irvine Farmers Market at Irvine Regional Park
This farmers market located at Irvine Regional Park is a small Tuesday market but it has many good things that you might need. There are many locally grown organic fruits and vegetables sold here as well as baked products, gourmet foods, tamales, fresh milk, oil and others. But you can't find food trucks here.
Location:
Irvine Regional Park, 1 Irvine Park Road, California
Business Hours:
Tuesdays – 9 AM to 1 PM (rain or shine)
SoCo Farmers' Market
SoCO Farmers'Market features locally grown farm fresh vegetables and fruits, fresh nuts, raw honey, meat, poultry and gourmet foods. Present is also a stand where you can have your knives sharpened at an affordable price.
Location:
3315 Hyland Avenue, Costa Mesa
Business Hours:
Saturdays – 9 AM to 2 PM